Specialist cleaners and spotters for the cleaning of carpet, clothes, upholstery and most textiles.


Removes most common stains such as tea, red wine, mud, berries, grease, grass and more!
Available in 5ooml trigger sprays.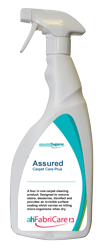 A one pass carpet cleaning product which:
– Thoroughly cleans your carpet removing stubborn stains
– Deodorises
– Disinfects
– Provides an invisible surface coating which carries on killing micro-organisms when dry.
Available in 750ml trigger sprays and 5L concentrate.