In line with our commitment to provide greener products for the marketplace, Assured Hygiene have developed a small range of cleaners based on sugar technology which give 100% 'green'
Products with truly outstanding cleaning performance.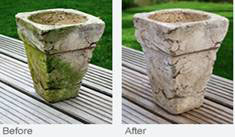 New applications using Assured technologies include garden and patio areas. Algae has completely gone from this ornate planter leaving it clean and uncontaminated.